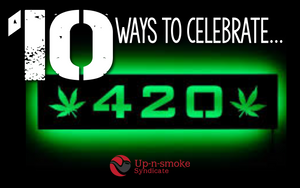 10 Ways to Celebrate 420
We all know the 420 drill. Hit the water pipe and get zooted. But what else? How do you elevate your experience? Here are ten ways we like to make our 420 a bit more fun.
1. BAKE
Brownies, cookies, ice cream, cake, oh my!
Pinterest is a useful tool for this exact endeavor. Look up some recipes, pick a few, and get the ingredients. Your high self will thank you.  Or if you're not a make it from scratch person, like a lot of us, boxed mixed or even buying goods from a bakery is a great alternative.
2. ROAD TRIP TO A LEGAL STATE
There's nothing like going to a dispensary for the first time and seeing all the options they have to offer.  It's time to plan a trip because there's a legal state near you.
Here's a full list of legal states: Alaska, Washington, Oregon, California, Utah, Nevada, Colorado, Alaska, Montana, South Dakota, Illinois, Michigan, New Jersey, District of Columbia, Maine, Massachusetts, and Vermont.
3. TAKE A HIKE
Find the nearest or coolest hiking spots near you and enjoy nature. There's nothing like a slow afternoon hiking to a beautiful spot to get your spirits lifted.  This 420 it may be just what you need.  Get the mug here.  Find a hiking trail here.
4. HOST A CRAFT PARTY
Painting, coloring, clay modeling, making jewelry, or frames while high is a fun experience. Just be careful with supplies that can cause bodily harm.
Another fun idea: get a science kit in the kids section at stores is also a great activity. A personal favorite is the slime kit. 
5. LEARN TO ROLL THE PERFECT JOINT
As they say, practice makes perfect. Watching youtube tutorials really does help. If that doesn't work for you, maybe it's time to try a cigarette roller!  The Honeypuff Kit has one included.
6. SMOKE WITH A FIRST TIMER
Your first time is something you never forget.  I remember the first time I smoked with my sister.  I'm a seasoned smoker, but she was a virgin (so to speak - don't kill me, sis).  She asked if we could smoke together, and after I picked my jaw up from the floor I pulled out a bowl and taught her how.  The giggles and munchies that ensued... man, that was bonding and I'll never forget it.
7. LEARN THE HISTORY OF 420
Educating yourself on the history of 4/20 is a great way to know how this awesome holiday got started. Our blog, the real history of 4/20 and the origin of 4/20 are great places to start learning.
8. WATCH 420 FRIENDLY TV
This is almost a given.  The night is winding down and you just want to veg out, relax, and watch something on the television.
9. MAKE A PLAYLIST
Maybe tv isn't your thing.  But you could really chill to some tunes.  Or, maybe you're having a few friends over for a COVID friendly 420 get together.  Make sure to add some of these classics to the playlist:
"Because I Got High" by Afroman

"Kaya" by Bob Marley

"Colt 45" by Afroman

"Smoke Two Joints" by Sublime

"The Next Episode" by Dr.Dre ft. Snoop Dogg

"Kush" by Dr.Dre

"Pursuit of Happiness" by Kid Cudi

"Habits (Stay High)" by Tove Lo

"Broccoli" by D.R.A.M

"The Recipe" by Kendrick Lamar

"Mary Jane" by Rick James
Spotify, Youtube, and Apple music have playlists made for certified stoners by stoners. 
10. GET SOME NEW SWAG
New accessories make it feel like Christmas morning.  And what better way to celebrate than to stop into your local smoke shop or prepare ahead of time by shopping an online smoke shop.
Don't forget to pace yourself, know your tolerance and don't over do it. Stay hydrated and fed. And, be a pal to those who do overdo it.