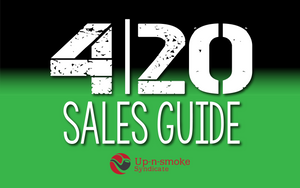 420 Sales Guide - ONLINE ONLY
It's coming!  420 is tomorrow, and we have some amazing sales to share with you.  
Deals are only valid online on April 20, 2021.
GLASS
Glass hand pipes:  BOGO 50% off
Glass water pipes:  20% off
SILICONE/ACRYLIC PIPES
Silicone pipes:  40% off (excludes Ooze brands)
DETOX
Total Assure Detox: $5
Ultimate Gold Detox (all flavors):  16oz is $10  |  20oz is $20
GRINDERS/TRAYS
All Ooze rolling trays: 20% off
Herb Grinders (excluding Grind Eeze):  30% off
CAN SAFES
Members only.  Exclusions apply.