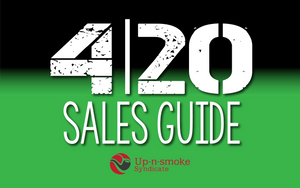 420 Sales Guide - In Stores Only
It's coming!  420 is just a few days away, and we have some amazing sales to share with you.  
Deals are only valid in one of our 5 Up-N-Smoke retail locations (not valid online).  Stop by early on 420 and do a little shopping to get ready for the big day!
Sales are only valid April 20, 2021.
GLASS
Hand pipes:  BOGO 50% off
Water Pipes:  20% off + a FREE bottle of Mister Eeze glass cleaner
SILICONE/ACRYLIC PIPES
Silicone pipes:  40% off (excludes Ooze brands)
Magic Water:  Now only $10
DETOX
Total Assure Detox: $5
Ultimate Gold Detox (all flavors):  16oz is $10  |  20oz is $20
GRINDERS/TRAYS
All Ooze rolling trays: 20% off
Herb Grinders (excluding Grind Eeze):  30% off
VAPE
Dab Magic:  $10
Yocan UNI:  $20
Yocan brand (excluding UNI): 25% off
KRATOM/CBD
House blends:  $85/kilo
All CBD:  20% off
ROLLING PAPERS
Mix and match (select papers):  5 packs for $5
CAN SAFES
Members only.
Exclusions apply.
See stores for details.