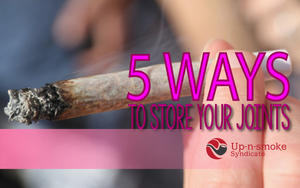 5 Ways to Store Your Joints
Sometimes you just wanna smoke a joint with your friends, but you're not exactly in a place where you can just plop your herbs down on the table and start rolling one.  Wouldn't it be convenient if there was a way to store your joint so you can easily transport 
We all know the age old trick of keeping your joints in your cigarette packs, ziplock bags, or mint tins. But what if you don't want to be so obvious? How do you store your joints? Here's 5 Ways to Store Your Joints
1. J-TUBES
J-tubes, or doob tubes, are a great way to carry your joints around. They're lightweight and small enough to fit in your pocket. J-tubes are also very affordable at only $0.99!  They come in different colors, are waterproof, and even air tight to prevent skunky smells from blowing your cover.
2. SMELL PROOF BAGS
Smelly Proof Bags are different than typical ziplock bags, they have an aluminum lining. Don't have to worry about people seeing your stash in these bags as you're unable to see through them.  Plus, they're waterproof, and we said smell proof, right? They preserve whatever you're storing - even food. An added benefit is that you can wash and reuse these bags!
Maybe you want something that's going to last a lot longer.  These smell proof bags are the solution!  Comes with all you need in a kit including a rolling tray, cigarette roller, and an herb grinder.  Being leather, you can't see through them and no odors will escape.  This particular brands comes with a lock and code to ensure no one is taking a peek inside.  Check out the different kits we have here.
3. VACUUM SEAL STORAGE CONTAINERS
These are super easy to use! All you do is press a button and press the lid on and your container is airtight! Vacuum seal storage containers are airtight. Perfect for all items not only your joints - jewelry so it won't tarnish, medications will stay potent longer, food can last up to one year, and keep bugs out of your herbs. These are great because they are durable so the joints and other items won't get crushed. 
Tightvac is a trusted brand for vacuum seal storage containers. There's seven options in this category from pocket size to seven inches wide. So no worries, there's a press seal container in all colors for anything you need! 
4. CAN SAFES/DIVERSION SAFES
As another option, can safes (sometimes called diversion safes) will protect your joints. Stash can safes are made with a variety of products, often food or drinks, but with assorted sizes you can stash as many joints as you want. Can safes are a perfect way to divert others from going through your things. 
5. KEEPSAKE BOXES
Keepsake boxes are a stylish way to store your joints and other valuables. These can be put on a shelf and they will just look like decor. Some can have locks added to them but not all. But if you're wanting a nice looking way to store your joints these are perfect for you. In assorted sizes and materials you can store your valuables in a box that reflects who you are.  We recommend a wooden box as they can help prevent any humidly or moisture from entering your rolled joint.
That's it!  Now you have some ideas on ways to keep those joints fresh and discreet!  Stop by one of our 5 Up-N-Smoke retail smoke shops in Louisville, KY or else you can shop for these items in our online smoke shop!  Stay lifted, friends!