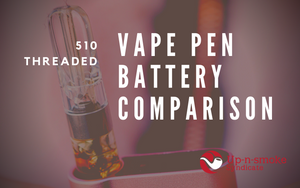 510 Threaded Vape Pen Battery Comparison
It's kind of like the Common Era method of historical dating, you know, the BC years as opposed to the AD years.  There was life before 510 threaded vaporizer cartridges, and then there's the common era we live in now.
Vape pens changed the game, there's no doubt about it.  Their supreme convenience and discreetness rocked the smoking world to its core.
So here we are, coming up on Spring 2020, and there's no putting the toothpaste back in the tube.  Here's how to make sense of all the 510 threaded vape pen battery options on the market.
Well, not all of them, that would take until at least 2021.  Here are our favorites, the "keepers" so to speak, and the pro's and con's of each.
Old Faithful: The Ooze Slim
No frills, no gimmicks, just a reliable auto-draw vape pen.  There's not even a button on the thing, just thread on a cartridge or an atomizer and inhale.  Retailing for $15 and coming with Ooze's Lifetime Warranty, there's a lot to love about this little gem.  Comparative downsides are the lack of voltage adjustment (3.7v), battery capacity (280 mAh), and the pen-style setup is more prone to breakage than mod-box style designs.  
Big Brother: Ooze Slim Twist
A step up from Old Faithful is the Ooze Slim Twist 320mAh variable voltage vape pen.  With additional features like a button instead of auto-draw, pre-heat mode for thicker oils, and voltage adjustment from 3.3 to 4.8 volts, the Slim Twist comes with everything you want in a pen-style vape battery.  Retailing at around $20, the Twist has just about everything you want with few drawbacks.   
The Not-Quite-Identical Twins: C-Cell Silo & Palm
Two sexy little vape battery alternatives from cartridge king C-Cell are the Silo (pictured left) and Palm.  Both offering a respectable 500 mAh battery capacity in nicely compact packages, these mini-mod autodraw batteries improve upon the breakage issue of pen-style batteries without breaking the bank.  At about $25, these little beauties leave little to be desired except for voltage variability.
Multi-Dimension Adjustment: Yocan's Uni & Uni Pro
Cartridges come in just about as many shapes and sizes as they do flavors.  Realizing this, Yocan developed the Uni, with adjustability ingrained for both cartridge height as well as cartridge width.  Both allowing variable voltage with 650 mAh of battery power and preheating function, at around $40 there's a lot to appreciate about both models.  
Differentiating features on the Uni Pro are the OLED screen with 0.1v precision adjustments and charging level indicator.  Our only complaint is the light weight, which may be interpreted as a lack of ruggedness.
The Heavy Hitter: The Ooze Duplex
You can feel the difference when you hold the Duplex dual-extract vaporizer in your hand.  The heft is reassuring, this thing could be used as a weapon (Which we do not recommend by the way).  With 1000 mAh of raw power, 4 voltage settings, user-friendly trigger-style button, and out-of-the box ability to vape both cartridges and extracts, the Duplex is a beast.  The only downside being the price tag, at $50 the Ooze Duplex is a testament to the old adage, "You get what you pay for."
Those are the main contenders for Best 510 Threaded Vape Pen Battery!  Hopefully this quick overview has simplified your decision-making process.  As always, chief responsibly ;)