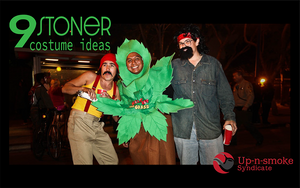 9 Stoner Halloween Costume Ideas
Halloween is around the corner. Do you have your costume on lock down? Check out these great Halloween ideas.
CHEECH AND CHONG
Of course, Cheech and Chong are the classic go to when it comes to stoner lore. Why not dress like them on Halloween and show your true stoner nature!
HAROLD AND KUMAR
Hit the Goodwill and find yourself a Harold and Kumar costume. Then hit the White Castle for a pregame (or post, whatever).
DALE DENTON AND SAUL SILVER FROM PINEAPPLE EXPRESS
You might have the clothes in your closet. But don't get caught at your dealers house asking for a super rare strain when crimes are committed. Add a pineapple to your costume to complete it.
BEST BUDS
This one is a given. Easy to create or you can buy it here. Blaze a trail at any party and let your friends know what's up.
ZIG ZAG GUY
You've got an epic beard and No Shave November is upon us. Grab a large piece of cardboard, some spray paint and stencils. Complete the prop with an orange beanie. Now you're the Zig Zag guy. Rock it.
TYPICAL STONER
You're channeling the Rasta Man. Grab your favorite rasta colored sweater/hoodie, grab a wig, and make yourself the iconic rasta man, or classic stoner. It's probably the easiest costume you could put together.
SHAGGY AND SCOOBY
Perfect for buddies or couples alike. Everyone loved Scooby Doo. This easy to do costume is perfect for the stoner in you.
THE DUDE FROM THE BIG LOBOWSKI
Your coolest friends have already done this costume. Don't be left behind. Get a cozy sweater or robe and some pjs. Add some shades and a drink in your hand and you've got it covered. Instant cool status.
THE HEMP BROWNIE
I was kicked out of the girl scouts for not selling enough cookies. Now I can show them how I turned out in true Halloween fashion. Stoner costumes aren't just for the men.