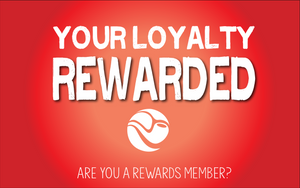 Are you a rewards member?
Up-N-Smoke offers our loyal customers rewards!  All you have to do is shop with us to earn rewards points that turn into cash!  It's free and you can register in stores or even online.
Getting rewarded is easy and seamless.  You may even have rewards points waiting for you.  Wouldn't that be a nice surprise!
HOW DO I REGISTER TO BECOME A REWARDS MEMBER?
Registering is pretty straight forward and easy.  It only takes seconds.  You can register at any of our five retail stores at the register.  You can also register online at www.upnsmokeonline.com and click the red "Rewards" button at the bottom of the screen.  
Register in stores.  Check locations here.
Register online.  Navigate to the bottom and click the "Rewards" button.
Once clicked you'll see this:
Click "Join Now" and follow the prompts.  All that's needed is name and email address!
HOW DO I CHECK MY REWARDS POINTS?
It's easy to check how many rewards you have!  Log into your account, click the red "rewards" button and you'll see exactly how many rewards are there.  This dashboard is where you can do the following:
Redeem rewards points online
Earn BONUS points 
Check your point balance
WAIT.  I CAN EARN ADDITIONAL POINTS?
Bet your biscuit you can! Earn up to 650 additional "free" points by doing some of the following:
Add your birthdate

Refer friends
If you refer your friends to sign up they will receive a 5% off coupon. Once they complete a purchase you will receive a $5 off coupon. All you have to do is send them a referral link!
HOW MANY REWARDS DO I EARN WHILE I SHOP?
500 points = $5 off

1000 points = $10 off 

2500 points = $25 off
You have the ability to save your rewards or spend them as fast as you get them. Once you redeem your points you can keep track of the rewards you receive within your account. 
So, why wouldn't you sign up for free and receive really awesome rewards?  Register here.