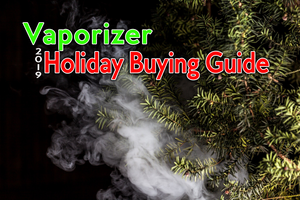 Best Vaporizers: The 2019 Holiday Season Buying Guide
Think of the biggest gamechanging innovations in human history.  The wheel, the lever, the hammer. Then there's the radio, the motion picture, and the smartphone.
What was even more influential than these mind-blowing inventions?  Fire. Without it, without cooked food and protection from cold and predators, we might still be in the stone age right now.
What could possibly be even more lit than fire?  For the dedicated smoker-joker-midnight-toker, it's vaporization.
All the benefits of fire, none of the drawbacks.  
That being said, a vaporizer that doesn't work effectively and intuitively is the worst.  It's like a car sitting on blocks.  A pencil without lead. A fully-clothed stripper.  
So the key to a vaporization happy ending is getting the right one.
Key things to consider when choosing your new vape:
> Where will you (usually) be when using your vape?
> What type of herbs or extracts will you be vaping?
> How much are you willing to invest to ensure an enjoyable vaporization experience?
> Are medical-grade components a must-have for you?
So, without further ado, here are our Up-N-Smoke Vaporizer Top Picks for 2019:
Best Portable Flower Vaporizers
For the health-conscious consumer that's always on the move.
> Good: Pulsar APX Dry Herb Vaporizer
> Better: Ooze Dought Dry Herb Vaporizer
> Best: DaVinci MIQRO Dry Herb Vaporizer
Best Desktop Flower Vaporizers
For those who want supreme vapor quality at the end of a long day.
> Good: Da Buddha Dry Herb Vaporizer
> Better: Arizer Extreme Q Dry Herb Vaporizer
> Best: Volcano Digital Dry Herb Vaporizer
Best Oil Vaporizers
For unmatched discreteness and effortless portability.
> Good: Ooze Slim Pen Twist Battery
> Better: CCell Palm 510 Cartridge Vaporizer
> Best: Ooze Duplex Dual Function Vaporizer
Best Concentrate Vaporizers
For deliciously potent rips whether at home or on the go.
> Good: Vape Ninja Nagato 3-in-1 Vaporizer
> Better: Yocan Evolve Plus XL Wax Vaporizer
> Best: Ooze Comet Portable eNail


We've come a long way from rubbing sticks and smacking flint rocks together!  Whether you're looking to vape the herb without burning your botanicals or get rig-style rips from a handheld device, these are some of the best values on the market right now.
Treat yourself or your loved one to one of 2019's Top Vaporizers this Holiday Season!