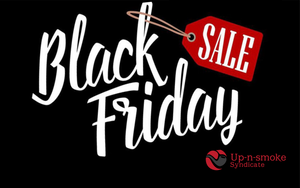 Black Friday and Cyber Monday Sales!
Updated Dec. 9, 2020:
Black Friday sales have now been EXTENDED through the holiday!  Woot woot!!!  On top of that, we've added additional sales!  All sales are valid in stores only.
OHM Cigar Packs for only $1

OHM 1oz tobacco 5 for $5

OHM 12oz tobacco 2 for $25

Smokers Pride Vanilla Cavendish 5 for $5

Wu-Tang rolling papers 5 for $5

12in Silicone Pipes $10

Dab Magic 2 for $20 or 5 for $45

Select dab containers $0.50

High Voltage 2oz hand sanitizer $2

Purchase a glass water pipe and get an ashcatcher discounted to $25.
Black Friday and Cyber Monday is upon us, and you know what that means!  Sales.  Big big sales!!
Sales begin November 23th - November 29 and last for all of Black Friday weekend!  Check our website for Cyber Monday sales too!
Sales in stores are only valid for Up-N-Smoke syndicate members at our retail store locations around Louisville, KY.  Not a member?  Simply ask at the register.