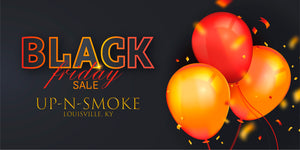 Black Friday Sales!
Black Friday is upon us, and you know what that means!  Sales.  Big big sales on big big water pipes!  You've been waiting all year and watching your dream pipe for the biggest sale and now is the time to strike!  
Sales begin November 29th - December 1 for all of Black Friday weekend!
DETOX
Ultimate Gold Detox:  16oz is $15, 20oz is $20
Herbal Clean:  50% off or BOGO free
ACCESSORIES
Herb Grinders:  select novelty herb grinders are 40% off
FREE Bug Rugz with hand pipe purchase of $25+
Can Safes:  25% off
Dugouts:  select laser engraved dugouts $10
Titanium and Ceramics:  50% off
Lucky brand K tea 3.5g box of 50 for $110
Illuminati Full Spectrum Carts $30 (normally $50)
WATER PIPES
Water Pipes:  35% off

Silicone:  60% off select silicone water pipes and accessories (excludes Ooze)

Glass Cleaner:  25% ofF
VAPORIZERS
iMini Vaporizer:  $10 each
Kang Vape TH-420 II Box:  $15
E-liquid:  2 for $10
Sales are only valid for Up-N-Smoke syndicate members at our retail store locations around Louisville, KY.  Not a member?  Simply ask at the register.