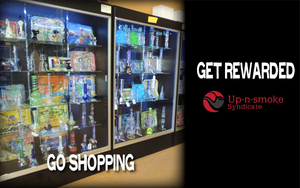 Get rewarded at Up-N-Smoke!
Joining Up-N-Smoke's Rewards Program is more than rewarding. To sign up all you need to do is go to one of our stores or online to Up-N-Smoke and click on 'Rewards' in the bottom right corner. It's completely free to sign up. 
Ways to earn points
Celebrate your birthday with us

Every $1 spent get 1 point
You can keep track of your points history within your account online. 
If you refer your friends to sign up they will receive a 5% off coupon. Once they complete a purchase you will receive a $5 off coupon. All you have to do is send them a referral link!
Rewards
500 points = $5 off

1000 points = $10 off 

2500 points = $25 off
You have the ability to save your rewards or spend them as fast as you get them. Once you redeem your points you can keep track of the rewards you receive within your account. 
So, why wouldn't you sign up for free and receive really awesome rewards?