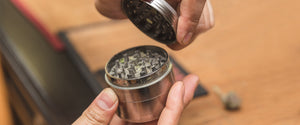 Grinders 101
I'm sure you've come into contact with the wide variety of her grinders out there in the world. Have you ever wondered which type you should invest in? Let's go over the different kinds, materials, and designs of herb grinders so that when it's time for you to shop for a new one, you know exactly what you want.
Metal Herb Grinder vs. Plastic Herb Grinder
It shouldn't be any surprise that metal herb grinders are more powerful than those made of plastic. Here's the pros/cons of both.  
Plastic grinders are typically made of acrylic. These grinders are best for being on the go and traveling, as they're lightweight and durable. 
However, if you're looking for something to really break down your dry herbs, we recommend splurging on a metal grinder. Metal grinders are usually either made of zinc or aluminum, and they tend to be easier to use. 
Plastic.  

Pros:  Inexpensive, lightweight.  Cons:  Less durable, can be tougher to get herbs shredded.

Metal.  Pros: Durable, easy to use, really pulverizes your herbs.  Cons:  More expensive
Teeth
Pay attention to the teeth in the grinders you look at. The most typical shape for the teeth is a diamond shape, but some companies have chosen unique teeth designs for grinding up your herbs. Most importantly, make sure the teeth do not run into each other as you're grinding, as this causes wear and tear and will eventually wear down the teeth so much that they can't do their job anymore! A well-made grinder won't have this issue.
Herb Grinder Size
Typically you can find herb grinders from 1.5" to 4" in diameter. Somewhere in the middle, around 2-2.5", is the most popular size.  The larger the size the more expensive the grinder will be, but the more herbs you can grind at one time.
How many compartments?
The most basic grinder is the 2-piece; this option is also the cheapest. It has a compartment where the herbs are ground up and dumped out for use. The next step up is a 3-piece grinder. In these grinders, there is a second compartment for holding your herbs once they are ground up. Lastly, there is the ultimate 4-piece. Not only do these grinders have compartments for both grinding and ground herbs, they also include a kief catcher in the bottom. 
In the market for a new herb grinder?  We have a large assortment to chose from for every budget!  Check it out here.