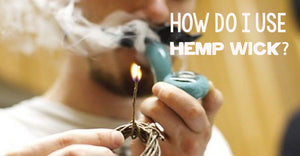 Hemp wicks - get a cleaner tasting smoke!
I hear you coughing after that hit you took.  Did you know that it could be partially caused by the lighter you're using?  Take a look at it in all its chemical full glory.  You're tainting your smoke.
I get it.  You have to burn flower in order to smoke.  Lighters are easily the most convenient way to achieve that goal.  I mean they're sold at smoke shops and head shops everywhere, but have you looked into other options?
Enter hemp wicks, a purists dream.  What is hemp wick?  Essentially it is similar to the wick of a candle.  It's a long string of hemp twine woven together then coated in beeswax.  Slow burning with unmatched temperature control makes hemp wick a perfect solution to lighting your water pipes, glass hand pipes, joints, or whatever.  
How do I use hemp wick?  Light it up with your now almost useless butane lighter and use the flame from the hemp wick to light your bowl.  Place the wick directly onto the bowl and inhale the good and exhale the bullshit.  A pro tip is to allow the flame to take hold of the wick in a windless area before starting.  When you're done just blow it out like you would a candle.
So why the hype?  It's easy:
No butane taste or smell

More control of your flame

All natural product

Clean hits!

Pull more hits by avoiding scorching your herbs

Waterproof
Plus, there are lot of uses for this!  Take it camping as it's waterproof and you won't have to worry about that.  Light your bowl with your campfire.  Or, light up candles around the house, your wildberry incense, and more!
Our favorite brand of hemp wick is Hempvine Hemp wick and we have some available in our online smoke shop, but there are alternatives out there if you want to give them a try.  Shop our online smoke shop or visit us in person at one of our 5 retail locations in Louisville, KY and Shepherdsville, KY.