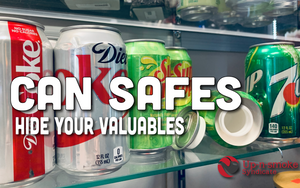 Hide Your Valuables with Can Safes
We've all seen the fake rocks that hold your spare keys. They're almost too obvious, you can tell they're fake. Do you ever wonder if there's better ways to hide your valuables? We understand there's only so many locations to hide your goods, and maybe you're running out of ideas.  
Thankfully Up-N-Smoke carries multiple diversion safes, stash cans, or can safes. Can safes?? 
Yeah, you read that right. Can safes allow you to hide your goods in plain sight. Studies show burglars only spend about 10 minutes in a home after breaking in. Stash cans help create a diversion for your valuables. No one checks the unopened can of soda or household cleaner for valuables.
Can safes come in a multitude of sizes and objects. Such as 
Most safes contain some of their labeled products to create the illusion it's real. Containing actual products not only makes it more realistic, it helps weigh the object down. Since you will likely notice this can of coffee creamer is significantly lighter then an unopened one. 
You can shop our full line of can safes here or at any of our 5 retail smoke shops in Louisville, KY.