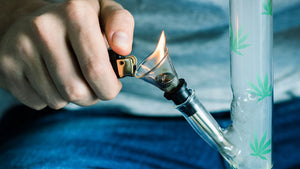 How To Choose the Perfect Water Pipe
Whether you're adding to your extensive collection, or are picking out your first piece, choosing a water pipe can seem overwhelming. There are so many different types; how can you possibly know which one to buy? We're here to help!
When it comes to picking out the perfect water pipe, there are several factors to consider:
Quality

Maintenance

Filtration

Price
QUALITY
Obviously, you want to choose a well-made water pipe. Typically, if you're going with a glass piece, those made with borosilicate glass are the best to choose, as they are durable and non-toxic. Borosilicate glass is made in a way that prevents it from cracking under extreme temperatures changes like regular glass can.  Also, American-made glass tends to be of a higher quality. 
MAINTENANCE 
Keeping your water pipe clean is important. Water pipes naturally build up dirt and grime over time, so definitely take into consideration the ease of cleaning when purchasing a new piece. Adding an ash catcher attachment for your water pipe will surely help keep it a bit cleaner, but remember to change out your pipe's water with each use and set aside time to use a cleaner throughout the pipe every now and then. Typically, straight tubes are the easiest water pipes to clean, as they only have one chamber to worry about. Also, a removable down stem makes cleaning go a lot smoother.
FILTRATION
While a straight tube water pipe may be the easiest to clean, it may not give you the smoothest, coolest hit. The more chambers and percs your smoke has to travel through, the better the hit. If you want really smooth water pipe rips, but also don't want to spend hours cleaning out every crevice, try finding a recycler water pipe. They filter and cool your smoke, but are easier to clean. You could also add an ice-catcher, or buy a pipe with one already built in, to cool down your smoke. This is a great option for the simpler water pipes, like straight tubes and beakers. 
PRICE
Price may be the most important factor to consider when purchasing a new water pipe. Once you know what features are most important to you and your smoking lifestyle, you can narrow down your choices by your specific price point.  Expect to spend $50+ on a good piece that will last through lots of smoking sessions.
We hope this guide helps you when you stop in to grab your new water pipe! Check out our selection of water pipes in our online smoke shop here!