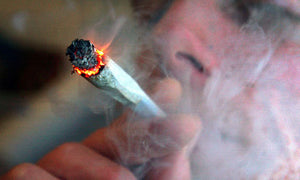 How to Hide the Smell of Smoke
You're a smoker but you don't love the smell that accompanies it. Smoke clings to just about any surface - carpet, upholstery, furniture, clothes, and even your body. So, whether your in-laws are visiting or you are just trying to light up discreetly at a concert, we've got you covered! Hide the smell of smoke like a pro with these tips.
How to Hide The Smell of Smoke in a Small Space:
SmokeBuddy

- If you are really worried about the smell of smoke, the SmokeBuddy is for you. It's an easy to use and portable air filter that allows you to exhale your smoke into the internal filter and out comes unscented air.

Use a vaporizer

- Vaporizers have been growing in popularity the past several years and for good reason! Using a vaporizer can reduce the smell of smoke significantly. We highly recommend the

Ooze Drought Dry Herb Vaporizer Kit

, a compact easy to use vaporizer that is one of the best on the market!

Incense/Candles/Spray/Fragrance Oils

- You can always light a candle or spray some air freshener but we definitely recommend checking out our

Vampire Blood Incense

! Not only does it smell awesome, but it was made by extracting the blood of vampires. (Not really, but it still smells really good).

Or if you're not really down with the undead, make sure to grab some

Zombie Repellent Incense

instead.  Stop by one of our five retail locations to check out brands like Ozium that absorbs the smell rather than masking it.

Open a window or use a fan

- Okay, seriously.  This one is a no brainer.

Air purifier

- Air purifiers work by pulling the air from the room into the machine and through several filters and then pushing the clean air back out into the room. This is great if you consistently smoke inside your home.
How to Hide the Smell of Medical Herbs or Tobacco:
Ooze J-Tube

 -

Ooze J-Tubes are a great way to carry your cigarette with you. They are plastic air tight and odor free. The J-Tubes are also waterproof.
Twisty Glass Blunt

- If you are looking for a discreet way to smoke your medical herbs or tobacco,

The Twisty Glass Blunt is for you!

 

It is compact and discreet and is engineered to only have to light it once instead of before every pull.
Chillum Dugout

 -

Premium, sleek and discreet. Our Chillum Dugouts are great to take with you on the go! An all-in-one product that's designed to hold both your tobacco and a chillum glass bat.
Stop by any of our five retail locations in Louisville, KY and talk to our knowledgeable staff about the best product for your individual needs!  We can help guide you to the best product that will hide the smell of smoke in your car or in your home.  Or, check out most of these products we mentioned above in our online smoke shop!