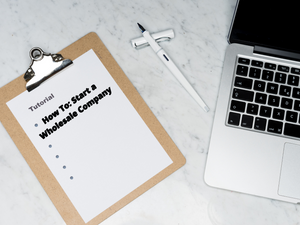 How To: Start a Wholesale Company
So, you're thinking of starting your own wholesale operation, but you have some questions about where to begin, how to plan, how to budget, requirements, forms, legal hurdles.. All that jazz. Instead of hitting up your local bookstore and aiming for the "Wholesale For Dummies" isle, we've compiled a simple, yet effective how-to guide to get you started!
Let's start with the obvious question for our first bullet point:
Do you have the money?
Start-up costs to consider when factoring in numbers include initial deposit, rent/fees, insurance, licensing, marketing, hiring your team, investing in your inventory, etc. You're going to need to plan for every possible scenario and how to adjust accordingly without missing a beat.
Do you have the proper team behind you?
Do you have a legal team that you can contact? Are you set up correctly with an accountant? Have you sourced a business banker? Do you have business contacts to network with or to guide you towards success? Someone who can mentor you and show you the ropes? Do you have people in your corner who believe in your dreams and goals as much as you do?
Who are your vendors?
Where are you sourcing your goods from and how will your products stand against the competition? Do you want to offer the best or is mediocrity sufficient enough for you? (It should always be the former, in case that didn't translate well enough..)
Pro Tip: When it comes to investing in product, do not place all of your eggs in one basket. Make sure to source from at least a few vendors for multiple reasons, including: More options for product. Vendor C may have completely different inventory than Vendor A and in turn, will provide you with more options for your buyers.
Vendor B may be fresh out of necessary inventory right in time for you to place an order and if your only source of product is Vendor B, you may be up a creek a lot quicker than you planned!
Know your customer. Your targeted demographic.
Is your product readily available? Is your product necessary or a niche? Is it desirable? Is your product going to be desirable IN your area? How are you going to market your product AND your business as being essential- even though it may not always be?
It's the first rule of real estate:

Location, location, location!
Is your business located in a heavily populated area or near a busy street? Is it accessible to those it NEEDS to be accessible to? Are your advertisements placed for success or are they hidden in a curtain of redwoods? Is your business location too close or too far from the competition? Do you have the proper space for inventory and company equipment?
Know your customer as well as how to be available to them.
Know how to set your pricing margins so that it's profitable to YOU AND YOUR BUYER.
Are you going to set opening order minimums and will they differ from reorders? Are there minimum quantity orders per product or per order? Who pays shipping? CAN your product ship?
You'll need to know how to price bulk items for wholesale orders so that you're still making money off of the sales at wholesale prices without bankrupting yourself or your buyers.
Do you have enough inventory to fulfill large purchase orders?
When selling wholesale, you're selling in bulk.. (think Costco).  Can you sell your buyers enough product to fill a store? If not, what are your limitations and how do you overcome them or re-adjust to be able to keep up with supply and demand? (Especially once you start to build your customer base and have to accommodate regular restock orders). Make sure your production process can withstand your purchase orders.
Arm your sales and production teams with everything they need for success!
Whether it be line sheets to provide them with product and pricing info, inventory numbers, etc. or whether you set up QuickBooks or some other form of online account for your business services, ALWAYS ALWAYS ALWAYS make sure that your teams can hit boots on the ground and keep a steady pace instead of having to search for answers or information because nothing is cohesive. If they aren't set up for success, neither are you.
Know how to pitch yourself to potential buyers.
It all comes down to marketing. It doesn't matter how great your product is, how essential it may be, whatever the case.. If no one knows about you (in the sales world), you don't exist! There will always be another business ready to become a fan favorite so learn how to sell yourself first and the rest will follow. Have contact lists of potential buyer info for your sales team, email lists, etc. and make yourself known!
Trade shows

, although monetarily and mentally draining, are a

HIGHLY

effective way to ensure your product is seen and experienced by your target demographic and potential buyers.
It's a great way to get like-minded individuals all in one space and also a great place to network!! Invest in yourself and in your business to ensure success every single day of the week! 
You only lose when you stop trying to learn from your failures and adjust. Always try a different approach instead of throwing your hands in the air and calling it quits! Give it a few more weeks, a few more days, a few more MINUTES even. Your entire attitude can change just that quickly! Have a plan, adjust your plan according to changes that occur, and give it all you've got and then some!
(&When all else fails, there's always the bookstore! (; )