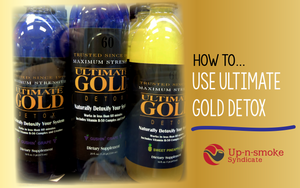 How to use Ultimate Gold Detox
You have toxins in your body, and you've been reading about different detox systems and how they work.  Or, maybe a friend shared with you their success with Ultimate Gold and you've decided it's time to jump on the wagon and detox your body.  Good idea!  The new year is upon us, and a healthy body is key.
Enter Ultimate Gold Detox, one of the most trusted brands of detox on the market since the early days of 1999.  It may leave you wondering, how do I take Ultimate Gold Detox ensuring that all toxins are out of my system.  Easy: hydration is key.  Detoxing can be a grueling process, and often if you don't do it correctly the first time then your progress will be a complete loss and no one wants that. The main key is to stay hydrated before, during, and after taking Ultimate Gold Detox to ensure you've purified your system.
HOW TO TAKE ULTIMATE GOLD DETOX
We recommend drinking Ultimate Gold Detox cold (it just tastes better). Start by avoiding all toxins for 24-36 hours before the day you want to be detoxed.
Kickstart your detox system by avoiding all toxins ASAP.  You should stop yesterday.

Immediately start cleansing your system by drinking a minimum of 16oz of water every two hours.  Do this at least one day before you are going to take Ultimate Gold Detox.

Shake your bottle of Ultimate Gold Detox to thoroughly mix.

Drink up! The entire bottle to be exact. As fast as you can.

Once the bottle is empty, wait 15 minutes and refill the bottle with water. 

Drink up, again!

Ensure you urinate as frequently as possible. 
While you're cleansing we recommend light and healthy meals. Fast food doesn't count, sorry!
Ultimate Gold Detox starts working in less than one hour! By stimulating the body's natural cleansing process. Allowing the body to clean itself with the natural essential vitamins and minerals.