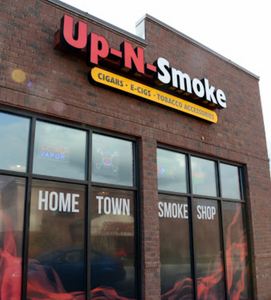 High! We are Up-N-Smoke!
You've been a shopper at Up-N-Smoke for some time now, but do you know who we are?  Let us properly introduce ourselves!
Up-N-Smoke started over a decade ago in Louisville, KY.  In 2007 an opportunity arose for a space to be rented at a local flea market, and Chad Wade, Up-N-Smoke's owner pictured left, saw the potential and jumped into action.  He started selling Wildberry incense and glass tobacco pipes and demand quickly grew. 
Encouraged by the growth of sales Chad opened his first brick and mortar store in Shepherdsville, KY in 2010.  Over the years as that store grew we realized that not only was demand high but that we were doing something right.  We grew.  Today we have five retail stores throughout Louisville, KY and one in Shepherdsville, KY.
Opening your own business can be a risky endeavor, and it takes a lot of confidence mixed with even more business sense to make it successful.  Up-N-Smoke continues to grow today as we've even branched out offering wholesale smoke shop supplies across the US as UNS Wholesale.  UNS Wholesale pays homage to the Up-N-Smoke name as UNS stands for Up-N-Smoke.
Chad still gets back to his roots from time to time.  He can occasionally be found behind the counter at the Shepherdsville store. 
Let Up-N-Smoke be your premiere destination for all things smoking related!  Visit one of our friendly stores in Louisville, KY or shop with us online.  Become a part of the Up-N-Smoke Syndicate!