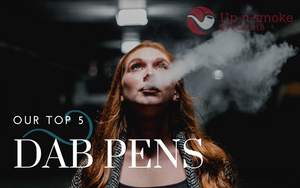 Our Top 5 Dab Pen Picks
On the hunt for the perfect dab pen? Search no further. 
Dabbing on the go has never been easier or less expensive.  Wax pens have come a long way in a short time, and here are a few of our favorites!
Yocan Magneto:


This bad boy packs a lot of punch into a compact package!  It improves on several aspects of other stellar Yocan models with magnetic connections for quick access, unique ceramic atomizer design, and built-in dab tool for effortless loading.
Although technically not a pen, the Ooze Duplex vaporizer can do everything any pen can, and then some.  Usable with both oil cartridges and concentrates, the Duplex is a true 2-in-1 device. Its sturdy hand-feel, long battery life and overall versatility make it a contender on every front.  So much so that in Michigan it was voted Best Vaporizer by High Times.
Yocan Evolve:


The Evolve is the workhorse of the dab pen market.  Without being able to boast about being biggest or best in terms of features, the Evolve has carved out a perfect niche for itself as the ideal balance between functionality and value.  Its dual quartz coils and bulletproof (not literally) construction make it the AK-47 of dab pens.
Adjustability and reliability are what you get with the Slim Twist Pro from Ooze.  It's simple to use, great for newbies and veterans alike. It has a bottom dial temperature control, a 320 mAh battery, and each piece can be used interchangeably with other 510 batteries or attachments.
It's hard to go wrong with proven performance at an attractive price point. Sleek and discreet, the Kato includes a wickless dual coil atomizer, mini dab tool, and a protective travel case.
What does the ideal dab pen look like for you?  It's always a delicate balance between innovative design elements and proven approaches, sturdy construction and portability, and firepower versus price.  
We're enjoying these dab pens at the moment, while looking forward in anticipation to new models from contenders like KandyPens, Dr. Dabber, Source Vapes, Puffco, G Pen and others!