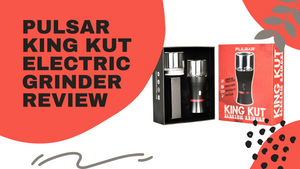 Pulsar King Kut Electric Grinder Review
The King Kut offers you a powerful new way to get your grind on. The stainless steel blade and powerful motor give you a quick grind and perfect fluffy consistency. With the clear glass jar attached you can easily view the grinding action until your preferred consistency has been reached.
A 1000mAh lithium ion battery provides you with portability so you can grind wherever you want without having to be near a power outlet. The charger is a micro usb, and is one of the most common chargers out there. So if you lose this one, you'll probably already have another one laying around somewhere. The kit also includes a cleaning brush which is good to have on-hand for when your grinder gets gunked up to brush away all the debris. One of the cooler things about the Pulsar King Kut Electric Grinder is it has an extra container which also doubles as a jar and comes with a lid for storage! 
How to use the Pulsar King Kut Electric Grinder???
First, unscrew the jar from the top, exposing the stainless steel blades. Next, take your herb and put it in the jar. Then, turn the grinder upside down, screw the jar back on then flip it around again and get your herb onto the blades. (I'd recommend loading up the grinder BEFORE powering it on), so at this point, to power on, click the button five times. A green light will show up when it is on. Give the grinder about 5 seconds to power up. Then, press or hold the button to start grinding. Continue until you get the consistency that you want. Once you are done with the grinder, you should turn it over and press the button a few times to get all of the loose herb out. Then, unscrew the jar from the lid and you're all set! (Jar lid for leftover storage is optional, of course.) 
How does it compare to a manual grinder???
With this grinder, you can see the product and are able to choose the consistency you want unlike a manual grinder. You roll the dice, and it is what it is. With this model, it's more precise to preference. The blades DO get a little gunked up, but we've learned that by turning it upside down, it kind of clears that problem (and the brush does the rest)! 
Who do we recommend this for???
The Pulsar King Kut Electric Grinder is great for somebody who may not have the hand dexterity to use a manual grinder or those who are open to modern methods. If you're looking for something that's easy to use and virtually effortless. 
To see what Austin thinks about the King Kut Electric Grinder, watch our YouTube review!!!!
https://www.youtube.com/watch?v=zHPuDmt2TJkv