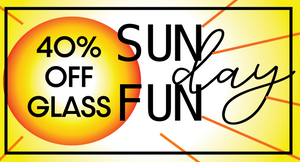 Sunday Funday Sale is Here!
The weekend just isn't long enough.  With only two days to rest and relax, it's no surprise that Sunday gives us the blues but don't be bummed!  Sunday Funday is made for day partying. Sure, maybe you have to go back into work tomorrow morning. The Monday grind really sucks.  Let Up-N-Smoke take care of you. Before you start day drinking stop by one of our five retail locations and take a peek at the glass pipe collection.
For a limited time we will have all glass on sale in our retail stores!  Here's a list of items you can get 40% off!
Glass water pipes

Glass hand pipes

Glass bubblers

Glass rigs for concentrates
You've been stopping by the store for a few weeks now just hoping that no one has bought that bubbler or sherlock hand pipe that you've been eyeing.  This is the time to strike. See you Sunday!