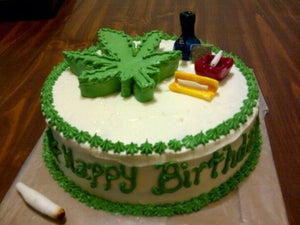 The Ultimate Smokers' Birthday Gift Guide
I'm sure you have at least one smoker friend in your life! If so, this gift guide will help you find the perfect present for your pal. Regardless of your budget, our online smoke shop has everything you need to make your friend's day perfect!
HERB GRINDER:

Grab one of our many herb grinders! This one is only $8.99, comes in a variety of colors, can double as a storage container, and is easy to take with you on the go. 
ROLLING PAPERS/WRAPS:

  Whether your friend prefers a paper, wrap, or cone, we've got you covered! Check out the popular RAW Organic 1.25 papers, an affordable yet easy paper to roll with.
STASH CAN:  

Regardless of what your friend is into, they need a place to keep their valuables hidden safely. Check out this Starbucks Double Shot Espresso Stash Can, perfect for your coffee-loving smoker pals.
HAND PIPE:  

Every regular smoker needs a good, reliable hand pipe in their life. Check out this Color Changing Galaxy Glass Pipe; it'll definitely become a staple piece in your friend's collection.
DUGOUT:  I'm sure your friend needs a nice dugout for their dry herbs. Look at this Katoya Dugout! It's made out of the same material as bowling balls, so it's super durable!
ROLLING TRAY:

Grab your friend a nice rolling tray for their birthday! Check out this rad Backwoods Rick and Morty tray for only $9.99.
SMOKEBUDDY:  Everyone eventually finds themselves in a situation where they wished smoke was odorless. Grab one of these nifty inventions called the Smokebuddy. It instantly filters the odor out of your exhaled smoke! These are a great way to keep others unaffected by secondhand smoke.
HEADY PIPE:  Everyone loves a unique glass piece, so why not add one to your friend's collection for their big day? This Hot Dog pipe would make the perfect gift for only $29.99!
MYSTERY GRAB BOX:

A Mystery Grab Box may be the most fun gift you can give, because it will be a surprise for both you and your friend! Each box contains a random assortment of items valued at at least $70. The items can be anything ranging from glass pipes, metal pipes, grinders, wood pipes, dugouts, papers, storage containers, incense, and other goodies!
If you find yourself truly at a loss you can always visit one of our brick and mortar smoke shop locations in Louisville, KY!  Let our knowledgeable staff help you find the perfect gift for that special person!