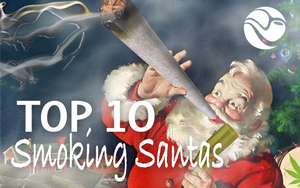 Top 10 Smoking Santas
Christmas is here.  It's the time of year where we all get a little kinder hearted and our Grinch hearts grow three times their normal size.  We are going to keep this post light and airy.  Let's check out our ranked top 10 smoking Santa's.
Wait, what?  You didn't know that Santa was a smoker?  Well, sure he is!  How else does he have the energy to give gifts on a level only Oprah could dream of?  Santa can also be a little naughty.  After all, he's a mischievous elf at heart.  So we've ranked our favorite smoking Santa's in order revealing our number one pick at the end.
NUMBER 10
Number 10 comes in just so that you will familiarize yourself with the idea that this jolly St. Nick fellow actually does light a cigarette from time to time.
NUMBER 9
St. Nicolas does enjoy a toke on his own.  It helps him with his everyday pains from what I hear.
NUMBER 8
Okay, this isn't Santa.  You caught us.  But we had to include this funny ass portrait of Snoop as Santa smoking.  It just makes us happy to look at it.
NUMBER 7
Santa is starting to get into the swing of things.  He's had a smoke session and now he's checking that notorious list for who has been naughty or nice.  And trust me, he knows what you really want.
NUMBER 6
Back when print ads were not only the big thing in advertising, but things were a little more risky and reckless.  Santa smoked Lucky Strikes.  Who knew?
NUMBER 5
Santa, what is that in your hands?  That straight tube water pipe is looking nice!
NUMBER 4
Santa is a big guy so he needs a big joint to get through his night.  Can you blame him?
NUMBER 3
Santa even knows all about concentrates.  Look at that fantastic water pipe!  We are close to the number 1 spot and it's getting harder to chose our favorite!
NUMBER 2
This photo of Santa comes in at number two because it's a whole ass feeling.  I imagine Santa at the end of his night just relaxing.  He knows the job is done and he's executed another year in the books.  This is the version of Santa I want to chill with.
NUMBER 1
And here we have it.  The number 1 photo of Santa!  Santa here may not be as fun as the other images, but this is number 1 for a very good reason.  Look at Santa lighting his pipe in the flame and the wreath of smoke encircling his head.  You know this image.  It's a classic, and that's what made it our number one pick!  Grab a copy of "Twas the Night Before Christmas" and you'll see him about half way though.
We hope all of you have a fantastic Christmas holiday!  Feel free to shop our online smoke shop while our retail stores are closed for the holiday.  All orders over $20 qualify for free shipping!