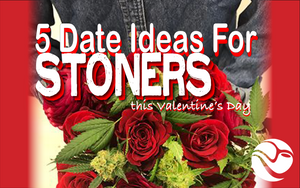 Valentine's Day - 5 Date Ideas for Stoners
Valentine's day is around the corner.  If you're lucky enough to have a girl/guy in your life then you may be wondering what to do.  If you are single… then why are you reading this, bruh?
Here's what we say when it comes to romantic gestures.  Just remember this:  KISS.  No, we aren't suggesting that you make out in the back seat of your car (though, that could be fun too!).  KISS is an acronym that means:  Keep it simple, stupid.  You may be thinking "Ohhhhh kaaay… are you calling me stupid?"  No sir/madam, we are not.  It just means not to overthink it!  Keep it simple, friends.
Valentine's Day doesn't have to be complicated.  Think back, if you can, and remember.  What's the best gift you received for Valentine's day?  Mine was a text message.  Yep, just a simple text that said "Got off work early, see you in a bit".  That's it!  It meant we would be able to spend more time together on a day I thought would be filled with overtime.  Looking back, there's other things I would have liked too.  If that text had been backed up with a new silicone water pipe or a new vaporizer and a cart of my fav… well, now that would have been fire.
With COVID19 still in full rage and ruining all of our plans… it's time to get creative.  But remember, KISS… keep it simple, stupid.  Here's some COVID friendly date ideas we would love if you stole:
Valentine's Day as a Stoner, Date Idea 1:  Massage and a Pizza
Order a pizza, pack a bowl, and offer a massage.  Nothing says happiness like a full belly, your favorite herbs, and a good rub down.
Valentine's Day as a Stoner, Date Idea 2:  Go Outside
It may be cold outside for most of us, but that doesn't mean you can't GO outside.  Is there a favorite park?  Maybe a river walk or a hiking trail that you both fancy?  Pack a couple prerolls, and get out of the house!  Conversations during these excursions with your partner will lead to lifelong connections.
Valentine's Day as a Stoner, Date Idea 3:  Give a Gift
Maybe your love language is gifts, either giving or getting.  Find something within budget and go for it!  It doesn't have to be complicated or expensive.  A pack of their favorite cones/papers, a smoke odor exterminator candle, or maybe some cute little daisy screens for their pipe.  Gifts can be small and don't have to be overly complicated.
Valentine's Day as a Stoner, Date Idea 4:  Dancing
Got tunes?  Sure you do!  Crank up the radio and have a post smoking dance session!  It doesn't matter if you know how to dance.  It's all about the time together sharing laughs.  The body movements don't hurt either.
Valentine's Day as a Stoner, Date Idea 5:  Infused Dinner
Going out to eat kind of goes hand in hand with Valentine's Day, but with COVID restrictions in full swing, it might be tough to find a table.  Not to mention, it can be overpriced.  Plan ahead.  Find something yummy on allrecipes.com where they have a Valentine's Day recipe motherload of ideas.  When the recipe calls for butter, replace it with infused butter.  Never tried making infused butter?  Stop by one of our retail locations and grab a Magic Butter Machine and get to making the best Valentine's Day dinner you've ever had!