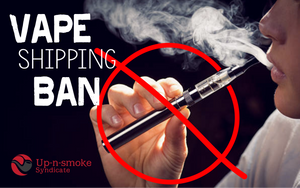 Vape Shipping Ban Due to COVID19 Relief Bill
Updated April 23, 2021:  All vaporizers have now been removed from our website as a result of the federal shipping ban on vaporizers.  Please visit one of our 5 retail locations in Louisville, KY and Shepherdsville, KY to purchase your vaporizers and accessories!
If you want a new vaporizer you better act now.  A federal shipping ban has made shipping individual vaporizers and their accessories across all 50 states illegal to adult consumers.  The ban prevents the United States Postal Service (USPS) from shipping vaping products, and other major shipping companies have followed suit.
Snuck into the COVID-19 Stimulus Relief Act (page 5,136) is a change in law that prevents the online sales of e-cigarettes.  To break it down - congress is trying to further restrict access to minors via mail service.  While the sale to minors was already illegal they've further restricted the laws to affect everyone. This change includes the shipments of: vaporizers, batteries, cartridges, and other accessories.
Customers will have to go in-stores to purchase vaporizers and their accessories, but you may struggle to find what you want. Smoke shops across the U.S. will only be able to get vaporizers and their accessories shipped in via pallet sized orders.  Something many smaller smoke shops may struggle with financially especially when it comes to specially ordering items for loyal customers.  Which puts a lot of customers in a bad position. In-store vaporizers may become more expensive or stores might not carry your favorite brand. As of right now there's not much retailers can do. 
The ban begins April 26, 2021.  After that date we will no longer sell vape products on our website (but you can still find them in our brick and mortar stores).  If you've been thinking of getting a new vaporizer or you've had your eye on one, we suggest picking up one now. 
Check out our selection of vaporizers and accessories now before we remove them from our website permanently.  All vaporizers and their accessories are now on sale.