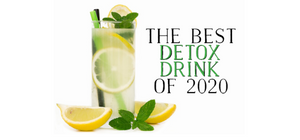 The Best Detox Drink of 2020
Let's talk detox drinks! 
Detox drinks are made to help cleanse the body of toxins in a short amount of time. Sounds too good to be true, right? How can a simple drink help your body jumpstart the detoxification process?
There's a large variety of types of detox drinks, detox diets, and more out there on the market.  Different approaches have a variety of advantages, and depending on what you are wanting to cleanse your body of it might also determine what the best product is for you. 
We are going to focus on detox drinks first and foremost as we want a quick fix!  Keep in mind that it's of the utmost importance to ensure you've followed the product instructions to the letter.  Cutting corners when trying to detox will not yield the results you want.
Herbal Clean
Herbal Clean is great if you want a different variety of types of detox drinks.  Some even come with tablets.  
THE GOOD
Herbal Clean is available from a lot of different distributers.  Even Walmart carries it online, and it comes with a money back guarantee.  
THE BAD
There's too wide a variety.  Assure, Q-Carbo Clear, Erase Clear, Q-Carbo, Eclipse, and more.  All drinks without a clear understanding of what is supposed to be used when and by whom.
Another problem is that it's a mixed bag of reviews.  Some people are stating that Herbal Clean helped them rid their body of toxins, and others aren't as confident.  Did they follow instructions for detoxing?  Who knows.
Ultimate Gold
Check out Ultimate Gold Detox Drinks! They are fortified with essential vitamins and minerals, including B-50, B2, B6, B-12 and creatine.
THE GOOD
Working in as little as one hour, Ultimate Gold is one of the quickest acting detox agents on the market. Consistent pricing means I know what this will cost no matter where I get it.
THE BAD
The drink is often too thick for some people and the taste is a strong citrus.
What's the best detox drink for 2020?
Really, compared to other popular brands out there we think that Ultimate Gold is the best on the market for 2020.  It's the most reliable.
So how do you use Ultimate Gold anyway? Be sure to avoid all toxins 24-36 hours before detoxing. Drink one 16oz glass of water one hour before drinking Ultimate Gold. Be sure to shake your bottle well! Drink the entire contents in a timely manner. Fifteen minutes after drinking Ultimate Gold, refill the bottle with water and drink. Urinate 2-3 times in the first hour. After 45 minutes, your system will be clean and free of toxins! 
The following will help Ultimate Gold be as effective as possible:
Drink at least eight 8 ounce glasses of water everyday. 

Maintaining a healthy diet. 

Plenty of rest and exercise 

Do not eat a large meal three hours before drinking!
All in all, Ultimate Gold is no ordinary detox drink. It's vitamin content and stimulation of the body's natural detoxification process make it unique!
Stop by one of our five convenient locations to pick up a bottle, or order it via our online store and have it shipped directly to your house!