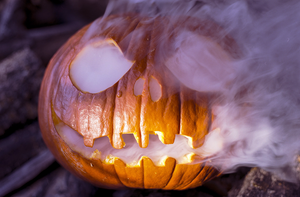 The Smoker's Ultimate Halloween Shopping List
Are you in the market for some Halloween goodies? Up-N-Smoke has got you covered this spooktacular season! From skulls to zombies, we've got all the festive gear you need to celebrate in our online smoke shop!
$99.99
This badass water pipe featuring a skull percolator will filter your smoke to perfection.  Smoke enters the skull and exits into water dispersed through small holes throughout the skull creating a smooth hit every time.
Available in a variety of colors if black isn't your thing.  Add a perfect hand blown Halloween style glass water pipe to your collection!
$7.99
These nonstick, heat-resistant skull shaped dab container will hold your concentrates or waxes like a boss. Silicone skull containers are easy to clean and made to last!
Holding approximately 22ml you'll be able to store all your concentrates in one spot.  More sturdy that your average dab container means these are built to last.  Plus, the skull design is simply badass.
$100
Going to a Halloween party?  Hosting one?  This heady water pipe is needed for that exact occasion.  Don't do the same old rolled joint you always do.  Pack a bowl in this bad boy
Impress your friends with this spooky Red Skull Devil Rig. It's sure to be the talk of any Halloween party.
$4.99
Get your home smelling like a vampire's den just in time for Halloween!  Vampire Blood Boxed Incense is a unique blend of rare herbs, flowers, resins and essential oils. This is a rare premium extract of Vampire Blood that is sure to heighten the senses and create inner sensations of nirvana.
was: $17.99   now: $13.99
This 4 inch wooden dugout makes the perfect gift for yourself or a friend. It comes with a ceramic bat and a storage space for your favorite herbs. The laser engraved skull design is a creepy plus!
Plus, the sale price is scary good.
$29.99
Imagine this.  It's Halloween and you pull out the same sad herb grinder you've been using.  Sure, maybe it has a story to tell, but is it really shredding your herbs the way it once did?  Halloween is a perfect excuse to get a new one. 
This herb grinder is out of this world! It's futuristic design will completely crush your herbs.
$89.99
Find yourself walking into the Upside Down with the Demogrogon.  Maybe you will learn a few things from Eleven on the way down about how to defeat this scary monster.
This badass Demogorgon hand pipe is inspired by Netflix's hit show, Stranger Things!
$12.99
Don't have time to roll one up? No worries, grab yourself an Ooze Glass Blunt Slider! They even come in all the necessary Halloween colors: orange, black, and lime green!
These glass blunt sliders are perfect to add to your pocket for everyday use.  No more crushed rolling papers in your pocket!
$29.99
Are you dressing as Sherlock Holmes?  Maybe a medieval witch?  This glass bubbler is the best accessory that is actually functional!  Plus, watch the colors change the more you smoke.
Want the cooling effects of water on your smoke without having to purchase a water pipe? Try this magical, color changing bubbler! You'll feel like a wizard every time you use it.
You plan to party hard for Halloween.  We get it.  But then it's back to reality the next day.  Keep yourself from feeling sluggish by using the strongest and most proven detox on the market.  
This detox is scary good.  It works in about an hour for a full body detox experience.
And there you have it, all the smoker's Halloween party necessities. Be sure to drop in one of our shops in Louisville, Kentucky to see what other spooky deals we have going on! Happy Halloween, witches!