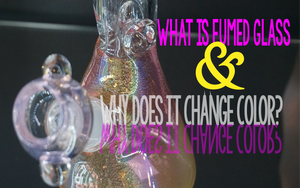 What is Fumed Glass and Why Does it Change Color?
Happy accidents happen from time to time.  In 1886 Dr. John Stith Pemberton created a product that you've likely consumed.  A pharmacist and, coincidentally enough, a drug addict sought to create an alcoholic beverage that would help wean people off the drugs they consumed. Voila!  Coca-Cola was born.  
What does this have to do with glass pipes?  Around 1990 Bob Snodgrass (pictured left), a fervent Dead Head, made a happy accident that changed the smoking world forever.  He was blowing glass and one hand, holding silver, got too close to the flame torch.  Voila!  Color changing glass was born and the "Godfather of Glass" leaves a legacy in the forever changed world of glass.
Fuming glass is a process where glass blowers hold bits of silver, gold, platinum, and other precious metals up to the flame torch as they are creating usable works of art.  The ultra hot metals vaporize and the flame carries the fumes to the glass pipe creating iridescent designs.  This gives the color changing appearance as resin builds up inside.  
"Does this pipe change color?"  
It's a question we get over and over in our retail smoke shops in Louisville, KY.  The short answer often is yes.  The longer answer is no, not really.  As a fumed pipe fills with resin the colors pop more against the dark background.  A pipe against a white background will appear yellow whereas it would look blue against a black background.
If you're interested in learning more smokers lingo and what they mean, it might be time to check out the Smokers Dictionary blogs we've done!  Part 1, part 2, and part 3 go over lots of details!  Lots of great terms in there to help when you're in a smoke shop.
Everyone loves glass pipes that can change colors.  Stop into one of our 5 retail locations and ask to see one in person in Louisville, KY.  Not from the area?  No problem!  Check out our assortment online here.